CodeGuppy Platform
Learning to code can be easy and fun with the right platform. Just open codeguppy.com and start coding - no need to install any software. Our entire curriculum of lessons and projects is tailored made for kids with activities such as interactive graphics and game creation. On codeguppy students love creating programs and share them with their friends!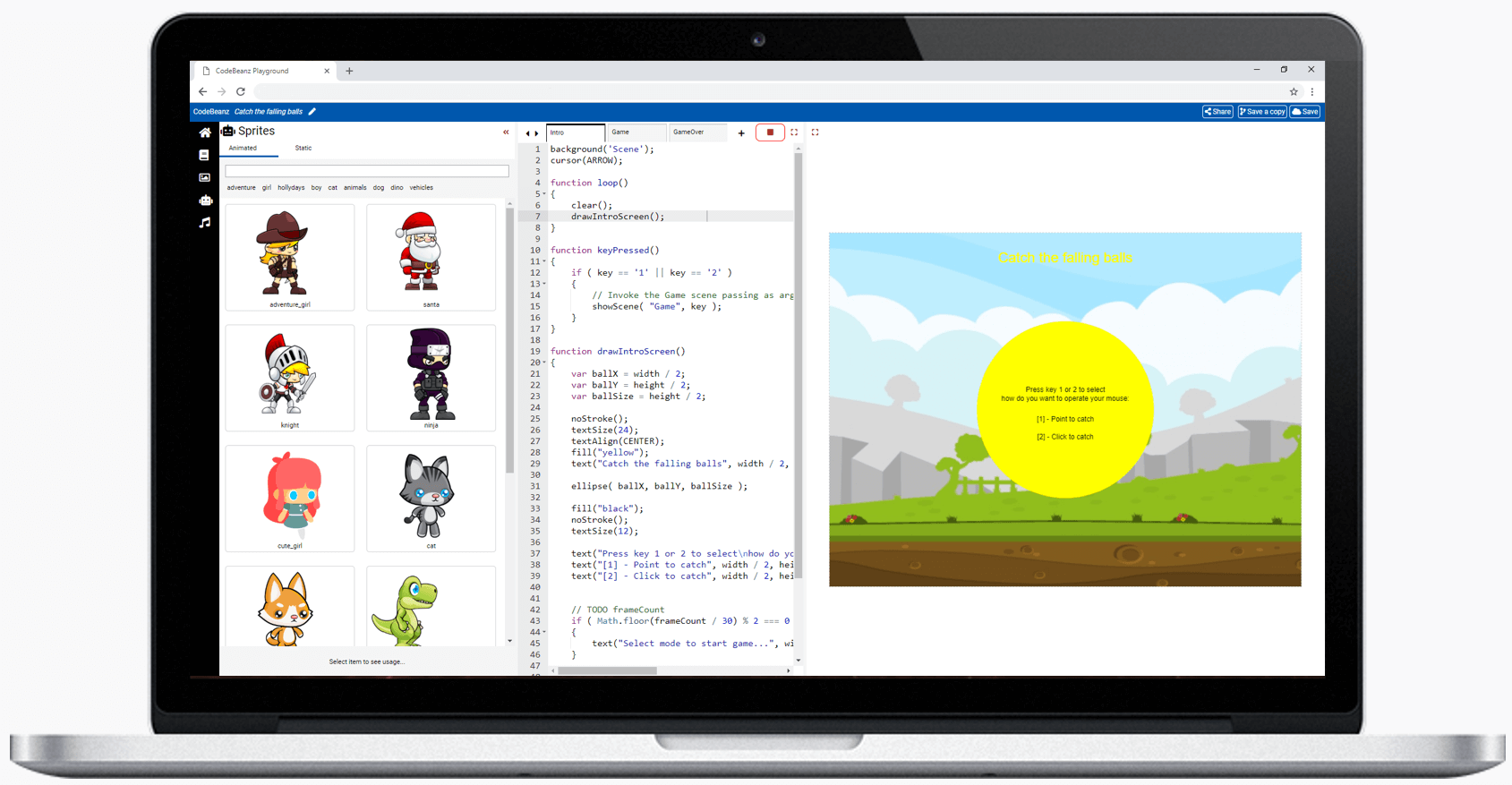 Web based platform
With CodeGuppy you'll learn to code real games and applications directly in your browser. You don't need to install any software on your local machine. Any Windows, Mac or Chromebook computer is perfect for CodeGuppy.
JavaScript language
At CodeGuppy.com we teach JavaScript - the most used and popular programming language nowadays. Our multi-scene code editor is empowering beginners to type their first line of code as well as advanced users to create multi-scene platform games.
Game assets
To make coding fun and engaging, CodeGuppy is providing you with a full library of animated characters, background images, and sounds that you can use in your games and applications.
"Everything is designed, but some things are designed well."
Main Features
JavaScript Playground
CodeGuppy offers a built in JavaScript code editor and canvas based output area.
Cloud storage
Unlimited cloud space for storing games and programs. Create new programs from scratch or remix existing ones.
Share
Students can share programs with family and friends. Advanced users can even embed CodeGuppy programs in websites and blogs
Runtime environment
Offer a graphical API (powered by p5.js) for introducing kids and beginners to programming via creative coding.
Multi-Scene Games
CodeGuppy allows to create multi-scene arcade games effortlesly.
Game building assets
Built in library of assets with asset browser (sprites, backgrounds, sounds)
Just type programs
"Just type programs" paradigm allows students to create fully functional games and programs just with code. No setup to perform, no assets to manage ... just type the code.
Project based tutorials
CodeGuppy offers a wide range of tutorials on various subjects (games, graphics, etc.)
Graduation path
Students can graduate to real world programming. Users can easily move from CodeGuppy to p5.js sketches and beyond to advanced JavaScript programming.
Multi-scene games
Building multi-scene games with CodeGuppy is as easy as drag and drop
Drag and drop coding
Building multi-scene games
Questions and Answers
Why learn coding?
Coding is an essential 21st century skill it is digital literacy. Many schools around the world already introduced coding as a mandatory curriculum activity. By learning to code you also improve your problem solving, math and spelling skills.
Why choose codeguppy.com when you have so many other coding sites?
codeguppy.com is specialy designed for kids with easy to follow tutorials written in a friendly language. Kids can choose whatever tutorial they want at their own pace. There are no quizes or milestones - just pure coding fun. By contrast, the majority of the other coding sites designed for adults are focused on career objectives.
Why codeguppy.com is not using a visual blocks language?
Visual Blocks languages such as Scratch have their own merits to introduce very young kids to the world of coding. However our opinion is that kids should transition as soon as possible to text based languages. A text based language will help a kids develop not only real coding skills but also other important skills such as spelling. If kids in the 80s were able to learn coding using BASIC (a text based language written in rudimentary editors), we believe that contemporary childrens can also learn JavaScript using the advanced codeguppy.com environment.
What language are you teaching on codeguppy.com?
On codeguppy.com we are teaching the most popular language nowadays: JavaScript.
How can I transition from Scratch and other block languages to JavaScript?
codeguppy.com implements sprite based animation concepts similar to the ones from MIT Scratch, code.org SpriteLab or Microsoft MakeCode. This makes codeguppy.com very appealing to users transitiong from these environments to text based coding. In codeguppy.com environment users can create fun animations and games using JavaScript.
Why teach graphics and games programming?
We are using graphics and games programming as ways to capture the attention and light the imagination of young coders. What else should we teach a 10 years old: how to develop boring bussiness applications? In addition to graphics and game programming we are also incorporating many math based curriculum activities.
What computer should I use to learn coding?
Our codeguppy.com environment is Web based. Is running on any modern browser on most PCs and tablets. However, when coding, we strongly recomment to use a computer with a physical keyboard and mouse such as a Chromebook, Windows PC or Mac. Coding requires to input many strange symbols that are very difficult to find and enter using a screen based keyboard.
What is the minimum age for codeguppy.com?
codeguppy.com tutorials are designed for kids as young as 13! And even younger kids can have fun typing simple programs together with their parents! Don't forget that adults can have fun too with codeguppy.com -- especially if you are into game coding.
Can I create my own programs with codeguppy.com?
Yes! On codeguppy.com we are offering unlimited space to create and store personal programs that you can share with others. You can code new programs from scratch, if you prefer so, or by starting from other programs found in tutorials or shared by friends.
Do you allow game reskinning and remixing?
Yes! We encourage you to remix the programs and games from this site and then share your versions with family and friends. We also provide a library of backgrounds and assets so you can easily reskin any game. Check-out these
screen captures
for examples of reskinned games.
What makes the codeguppy.com platform special?
CodeGuppy is teaching JavaScript. Our platform adds just the right amount of 'spark' on top of JavaScript in order to empower users to create nice programs but without distracting them from the language and computer science concepts. Behind the scenes, CodeGuppy is using
p5.js
- a JavaScript library with deep roots in academia. On top of the coding platform, CodeGuppy provides a library of game building assets, an online coding editor with syntax highlight, program sharing capabilities and unlimited space for personal programs.
Why learning through games and creative programming?
Games and animations are the first type of applications that a kid encounters on either personal computers or mobile devices. Therefore kids are very motivated to create and share their own games with friends and family.
Can I use CodeGuppy to teach coding in class?
Yes! We are offering the full coding platform and all the essential coding lessons and tutorials. This is appealing to many coding club teachers who can now use the platform in a class environment for teaching JavaScript. Please see the
educators
section for more details.
As a book author / video course producer, can I use CodeGuppy as a platform to teach coding and JavaScript?
Yes! CodeGuppy is the perfect platform to teach coding and JavaScript to kids and beginners via printed books, articles and video courses. CodeGuppy supports "Type-In" programs, exactly like the home computers (Commodore 64, ZX-Spectrum, etc.) used to offer in the 70s - 80s. With CodeGuppy there is no need to perform any setup or configuration or even manage assets. Everything is included so students can focus solely on type-in the code you publish.
New CodeGuppy projects seems to be published all the time. How do I stay informed about latest CodeGuppy tutorials and projects?
What
Users

say?

CodeGuppy allows me to create my own games that I can share with my friends.

I was always interested to see how the classic games such as Pong and Breakout were made. CodeGuppy has tutorials for these games as well as many others.

CodeGuppy is the best coding site on the entire web.