Welcome parents
To the coding platform for kids and parents
If you are reading this, you are probably interested in teaching your kids how to code.
By learning how to code, children improve their problem-solving skills, which in turn, also develops their creativity and persistence in solving problems. Coding improves their communication skills by teaching them to collaborate with others. Coding teaches kids to be focused, patient, and resilient.
Coding can also help build their confidence when they solve a tough challenge.
Coding is the future!
If you don't know how to code
At codeguppy.com we found the perfect method for parents (that don't know how to code) to introduce kids to the wonderful world of coding!
This method is based around type-in programs. This method was used virtually by everyone in the 80's. Kids from those days used to type-in programs from books and magazines and then run them on their personal computers. Many of those kids are now the professionals from the big tech companies from today.
To try this method with your kids, please follow these steps:
Register a free account on codeguppy.com
Download this wonderful "Draw with code" book and print it
Ask your kids to type-in the programs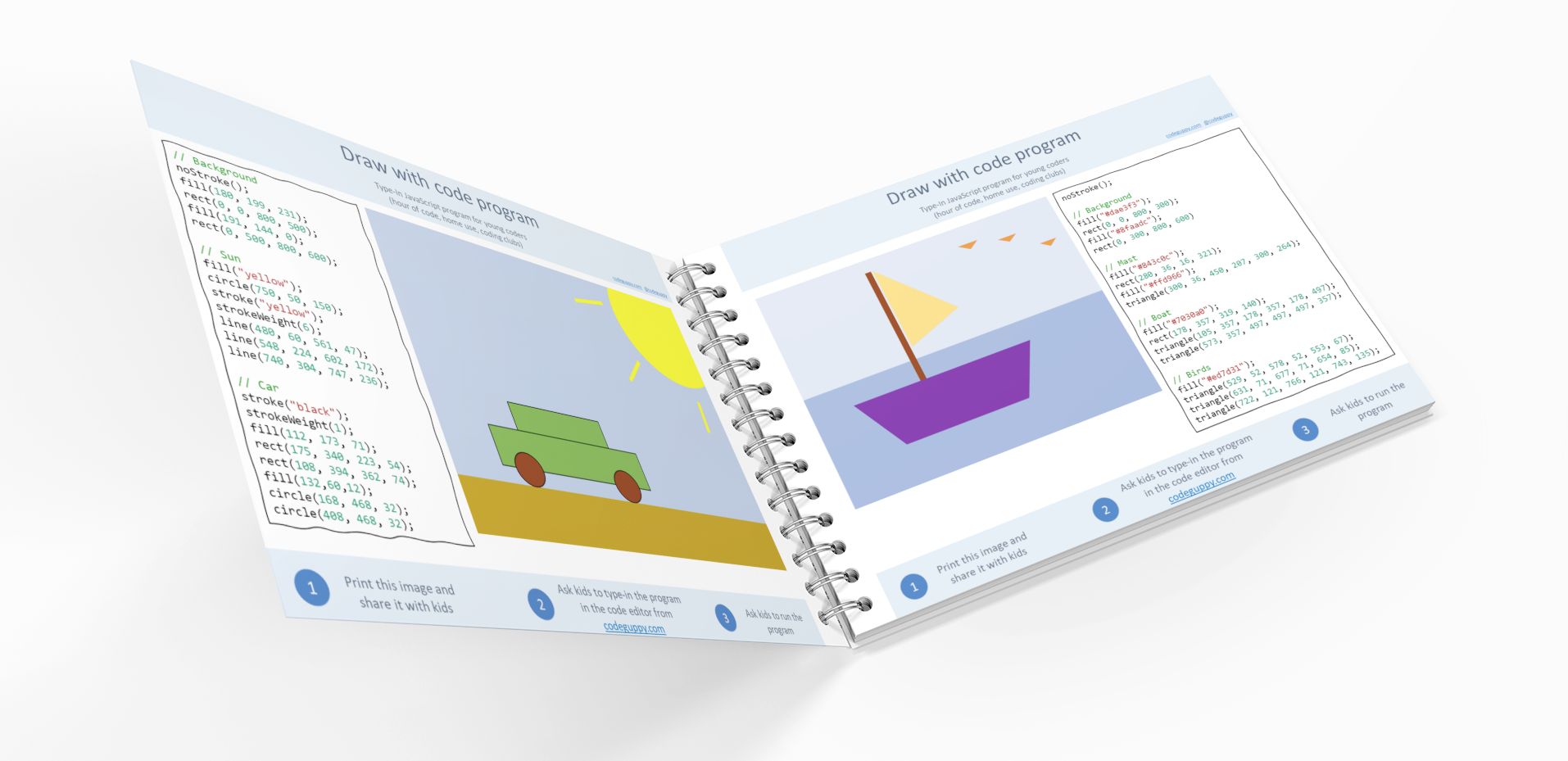 If you know how to code
Are you a software developer? Do you code yourself for work or used to code in the past? In that case you found the perfect platform for introducing your kids to coding.
In a nutshell, codeguppy.com is an online editor with a graphical based runtime, perfect for developing graphical applications and mini-games.
The runtime is based on the excellent p5.js, p5.play, p5.SceneManager and TurtleGFX libraries. They are all incorporated nicely under a unified API. In addition, the environment comes with many graphical assets built-in: animated sprites, backgrounds, music files and sound effects.
If you are currently a software developer working on an enterprise product in your day to day job, you'll find codeguppy.com platform very refreshing. With codeguppy.com you can do creative coding, mini-games and even explore algorithms in JavaScript.
Of course, after you familiarize yourself with the platform, we recommend you do these activities together with your kids. We recommend you to build a game with you kids! (you can start from scratch or remix one of the existing projects)
If your kids love coding please explore the other downloadable resources and projects from codeguppy.com
Perhaps their next project will be to re-skin an existing video game (study the code of an existing game then change the graphics to produce a new version) ... or even build a new game from scratch!
In any case, if you're building something unique, we'd love to hear about it. Please contact us and tell us about your new program.